It's been a pretty busy schedule the past month for me so I haven't had much time to post updates on my blog. We were in Austin, TX for the Austin City Limits music festival a couple weekends ago. I was able to get out one of the days we were there to try to photograph any Scissor-tailed Flycatchers still hadn't moved south. I lucked out when someone from Austin posted he just had several in NW Austin. He was very helpful in giving me specific directions which yielded the following photos: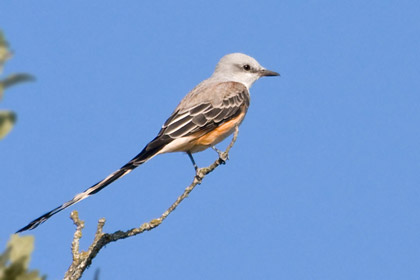 Scissor-tailed Flycatcher
Last Saturday I did another 3/4 day pelagic trip out to the 9-Mile Bank and the Coronados Islands in Mexican waters southwest of San Diego. Big surprise was a single (1 yr.) Blue-footed Booby among the many Brown Boobies. I was also able to get some better photos of Black-vented, Pink-footed and Sooty Shearwaters.
Other nice surprises included a pod of Blue Whale many Bottlenose, Risso's and Common Dolphins along with a lone Elephant Seal on the Coronados Islands.
Photos from the pelagic follow: