Sunday, March 1 – Wes Fritz organized a pelagic aboard the Condor Express. The mission objective was to locate any Parakeet Auklets which sometimes winter as far south as Southern California. They have been recorded in counties just north of Santa Barbara County and a dead specimen washed ashore at Venice Beach in Los Angeles county last winter. To give you an idea of where Parakeet Auklets are normally found: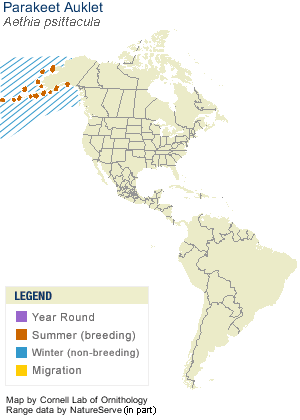 Parakeet Auklet Range Map
We set sail from Santa Barbara Harbor at approximately 0700 Sunday morning. The weather couldn't have been more perfect. No winds, patchy high/upper clouds and a sea that looked like glass. The combination of that and being on a large catamaran meant we felt very virtually no ship rocking. Perfect conditions for photography! Within 30 minutes of leaving the harbor we located a pair of Xantus's Murrelet (scrippsi). They were quite cooperative allowing us to circle around them for optimal lighting conditions. At one point we were within at least 30′ of them.
After 15-20 minutes of spectacular views and photos of the Murrelets we continued on our way. Not even thirty minutes later, Paul Lehman shouted "STOP THE BOAT!!!!" And let me tell you, that catamaran can stop on a DIME. We all lurched forward as the captain put on the brakes. We were looking all around to figure out what Paul screamed stop for. We heard someone shout "PARAKEET AUKLETS". A few moments later, one surfaced from underwater 50 yards from the boat. Moments later a second surfaced. The captain quickly tried to get the boat a little closer. More than 3/4 of the boat had cameras and you could hear everyone's shutters going off at full speed.
The map below will give you an idea of our route. The top-left mark was where we located the pair of Parakeet Auklets. Top-right mark is Santa Barbara Harbor. The bottom-left mark is the Rodriguez Seamount – a 6,000′ deep trench.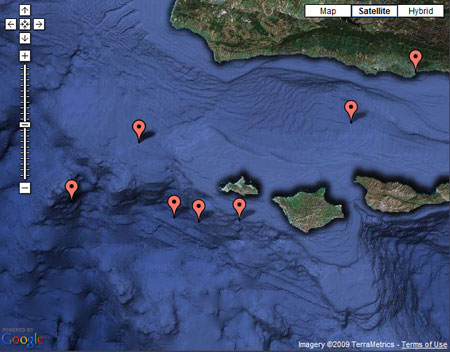 GPS Ship Track Plot Map


San Miguel Island (Point Conception in background)
Aside from the Parakeet Auklets, I had an incredible photo day recording my best yet photos of Cassin's and Rhinoceros Auklet and Xantus's Murrelet: