More from the Galapagos. It seems further DNA analysis (and song analysis) is being done on Darwin's Finches and it's led to some very fascinating discoveries.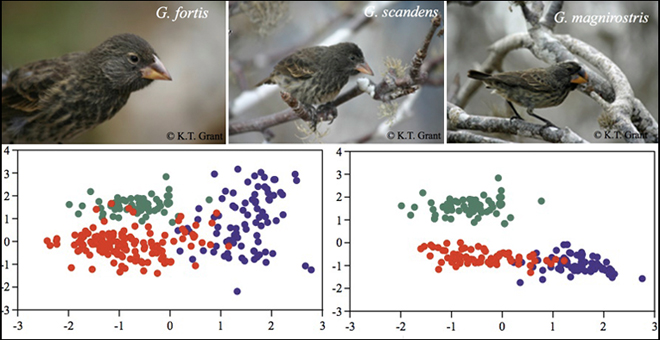 Darwin's Finches of the Galapagos Islands
When they arrived in 1978, G. fortis and G. scandens were Daphne Major's sole finch inhabitants. Five years later, G. magnirostris, arrived on the island. After several decades, a few of the original finches interbred, producing a hybrid that appears destined to become its own species. Yet neither bred with with G. magnirostris. According to the Grants, G. fortis and G. scandens maintained separation through song.

For the finches, as for so many birds, songs — sung by males, learned from their fathers — are a central form of communication. They enable individuals to recognize others of their species, advertising the possibility of reproduction. Each species' song is distinctive.

As it happened, the song of G. magnirostris originally overlapped with the tunes of G. fortis and G. scandens. That's no longer true. Since 1983, their trill rates, frequency and bandwidth have all changed drastically.

More info from the Wired article here.