The Curlew Sandpiper is a small shorebird that nests on the tundra of Arctic Siberia. It is strongly migratory, wintering mainly in Africa, but also in south and southeast Asia and in Australasia. Every now and again one will get blown off course and end up somewhere in North America – usually on the Atlantic seaboard. And even less frequently, one will turn up along the Texas coast.
Fortunately the timing of one being in Corpus Christi coincided perfectly with my trip to Texas. I was primarily concentrating on Houston and the Upper Texas Coast (UTC) but Corpus was just a mere 4 hour drive south. I decided to team up with Bill and Bryan Tarbox and Ellen Baker of Houston and make the chase together.
Upon our arrival to Oso Bay, where it was being seen regularly for the past 10 days, we were astonished to see thousands of shorebirds grouped up together…essentially trying to find a needle in a haystack!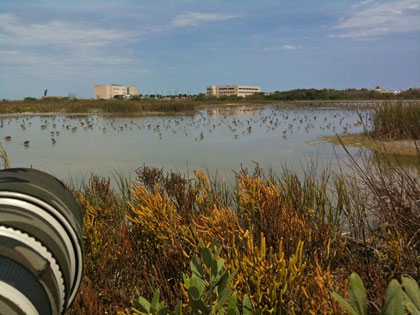 Oso Bay
On top of all this it was 97F and high humidity. We spent an hour in a half looking for the bird with no luck. My friends needed to get back up to Houston before sunset so they wished me luck and bid farewell. I spent another 30 or 40 minutes before I decided to move to another spot to try and get some photos of Wilson's Plover. Not having much luck with that either I went back to the original spot.
As I approached the group of birds I noticed a slightly larger bird chasing all the Western Sandpipers around. I looked through my camera to get a better look and 'lo and behold it was the Curlew SP! I took a bunch of photos and noticed a few moments later my friends had texted me asking if I had any luck. I replied, "YES! Got the Curlew Sandpiper!" They responded, "Be right there!" Apparently, they found a pizza place on the way back to the car and were eating lunch…letting me do all the hard work!
The CUSP stuck around for my friends and we all got great looks and photos of the bird. It was quite fascinating to watch how aggressive and territorial it was with the smaller Western Sandpipers. It didn't seem to mind the Dowitchers or Stilt Sandpipers, however.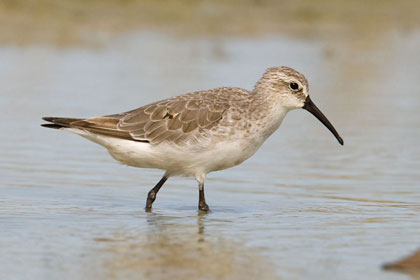 Curlew Sandpiper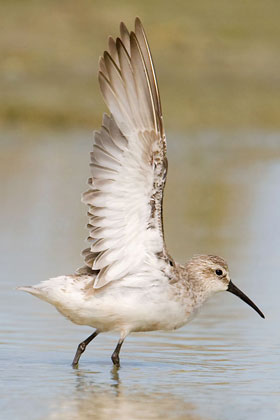 Curlew Sandpiper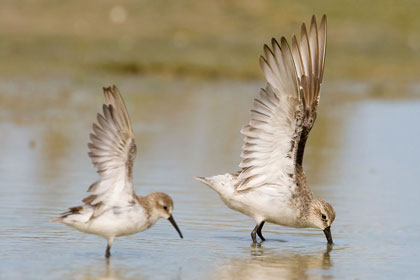 Curlew Sandpiper (Western SP on left)