For some reason I decided to go to Ballona Creek again this afternoon. I was there yesterday looking for the Brant and just as I was giving up it flew over me and up Ballona Creek…never stopping. So since I knew it's still around I figured I'd try my luck today. I scanned the Creek and didn't see anything so I decided to take some photos of Bufflehead that were pretty close to shore. After a few shots I threw my tripod over my back to start heading up the Creek some more.
About two steps out, one of my worst fears happened. My camera, lens, flash, etc. ripped off my tripod and fell to the ground behind me. I spun around to see my lens laying in mud, the body completely ripped from it. Upon closer investigation I found the body was completely fine ( Thank God ). But it appeared my 1.4x extender is what separated from the lens itself. The foot on the flash unit ripped off the mount and was covered in mud. The lens didn't appear to be damaged other than where the 1.4x Extender broke off…I knew the whole mounting plate would probably have to be replaced as well as the extender itself. I picked everything up and waddled back to the car.
When I got home, I set everything on the dining room table for closer inspection. I realized that there was absolutely no damage to my lens, not even the mounting plate. The remains of the extender were still mounted to the lens and I was able to unscrew it revealing the lens was perfectly fine. Wow!!
I unscrewed the other half of the extender from the body and found the mounting plate on the body was fine – not even bent. There was some mud and gravel on the body which I wiped away with a wet cloth. After I got it all off, there wasn't a single scratch or dent!
The flash had seen better days. A couple of big gashes but all cosmetic. I thought the foot was broken but it turned out is was the other half of the extension cable still stuck to it. It came right off revealing a perfectly intact flash foot. I immediately hooked it up to the body and put it onto my lens and found everything functioning like normal.
How lucky I am everything landed right between two giant boulders and onto soft mud.
So, how did it all happen? Well, pictures follow. As you can see, there's a big mounting plate that my Wimberley head attached to. There's also a clamp on the tripod itself that holds this in place. I always check to make sure everything "appears" secure by pulling on the mounting head, and checking the plate where the lens mounts too. But I never actually took a wrench and tightened the bolt that secures the mounting plate. Let this be a BIG lesson to myself and anyone else with similar set-ups!!!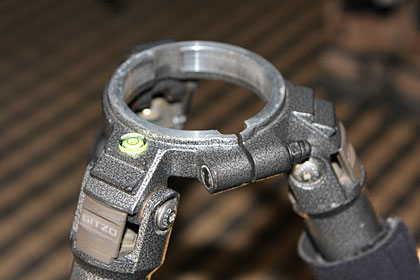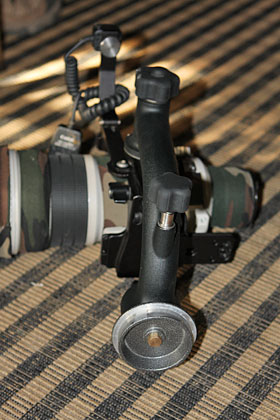 Here you can see the other half of the 1.4x Extender still attached to my camera body: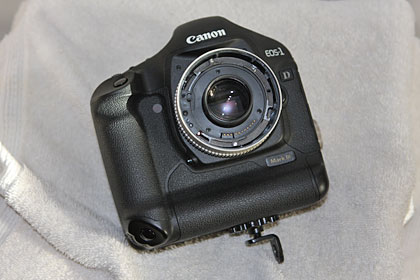 The remains of the flash extension cable: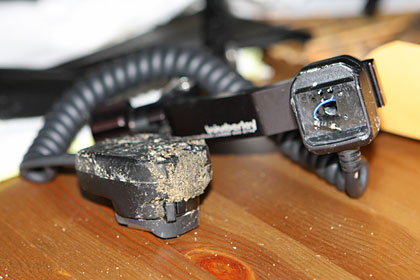 And, finally, what's left of the 1.4x Extender: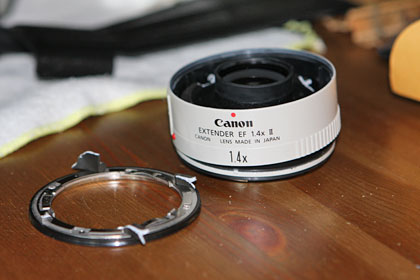 So, replacement costs:
Canon 1.4x Teleconverter: $279.00
Flash Extension Cord: $64.00
Total: $343.00
And sorry to sound cliché:
Learning a valuable lesson: PRICELESS